Welcome Hipargero A100 Aquarium Led Lights
A100 AquaSpace Aquarium LED Light is a perfect reef light for saltwater aquarium tanks. We focus on aquarium lighting from 2015. We designed A029 aquaknight nano aquarium light for small fish tanks from 2017 in Amazon. Now we have 100Watt A100 reef lighting for big aquarium tanks. As saltwater aquarium light, A100 has following features.
Specification

One A100 can cover 24"(width)x24"(length), deep into 60"

True Power Draw: 100W±5%

34pcs High Power 5W Cree and Epistar LEDs.

5 separated channels,All channels support 0-100% dimming

Lens Angle: central lens 107°with more coverage, surrouding lens 90° with deep penetration

IP65 waterproof, anti saltwater corrosion

High definition OLED display screen for menu and status showing

Touch control and remote control, master / slave group control

100~240V input, 48V safe voltage output

Working Temperature:-10~45ºC
Dimension:
Size: 8.7(length)x4.8(width)x1.6(Thickness)inches.

Weight: 4.4 lbs

Package size:15.3*10*3inches
Package List:
1 x A100 AquaSpace

1 x Adapter (external)

1 x Remote

1 x Aluminum Stand

1 x US Power Cord (6feet)

1 x Screws for bracket

1 x User Manual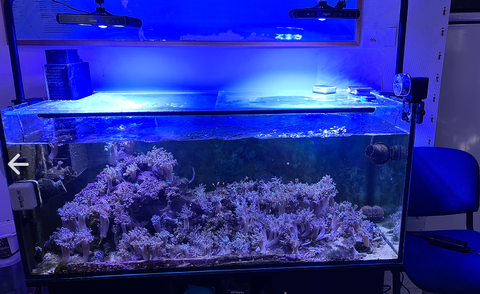 Key Features of A100 LED Aquarium Light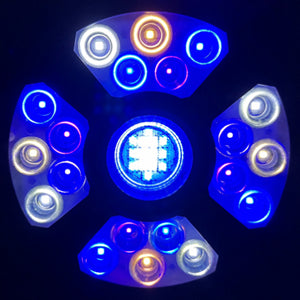 Five independent channels with 0-100% dimming
Program coral modes for SPS and LPS.
A100 coral light helps corals grow healthy and look beautiful.
--A: 14000K Cool White
--B: Royal Blue(450nm~460nm)
--C: Violet Blue(430nm~440nm), Blue 470
--D: Violet (410~420nm)
--E: 3000K warm white and 6500K neutral white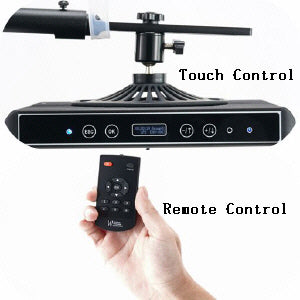 Touch control and Remote control
--Four touch keys in A100 reef tank light, can easily set light by touch.
--Remote control. A100 support remote control. One remote in hand, Simple operation
--Shortcut key of coral mode, quicker to swich modes. Six button in remote can quickly switch into any mode.
-1: SPS 2:LPS 3:MIX 4: Fresh 5:Self-def 6:Constant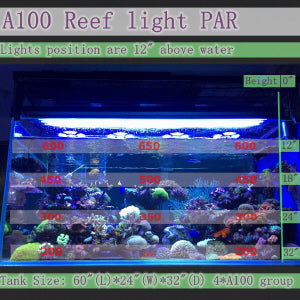 A100 tank light with high PPFD
A100 provide high PAR for SPS,LPS , mixed corals or fish.
--Ideal and suitable coverage for saltwater creatures and reef environments, especial big deep tanks more than 40" depth.
--A100 reef light can provide perfect saltwater spectrum for corals and fish etc.
-It is effective and trusted saltwater aquarium light for reef tanks, coral lights saltwater tanks
-It is reef light sunrise sunset with coral modes, built-in timer
A100 Reef Tank Light with Flexible Angle Adustment Cute Stand
Sturdy stand with flexible angle adustment
Universal connector can adjust any angles you want

Very strong reef stand, aquarium mount, no any bend, no tilt

Wide clamp with 10inch wide suits for rimmed tank or rimless tank

Professional lens suits for medium and large reef tanks with deep saltwater

The lamp can be adjusted to any height

The power cord is routed in the bracket to keep simple and generous
 So A100 is a very good fish aquarium lights and good suitable led light for aquarium and saltwater light tanks.
For saltwater lights for coral reef and reef aquarium, saltwater tank light A100's professional reef led spectrum is excellent.
A100 is 100watts, it can be used as 30 ~ 50 gallon aquarium light or 50 ~ 150 gallon fish tank light.