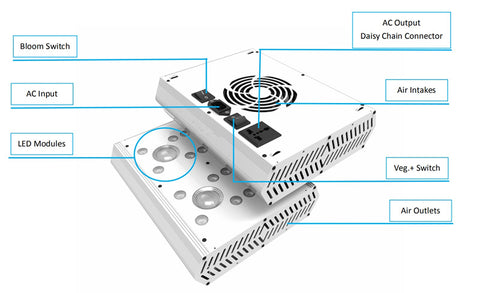 Optimal Full Spectrum from 380nm to 730nm —— Different with other common led grow lights with red and blue leds, Hipargero HG800 led grow light uses 4x3000K high power COBs, which are specially developed for plants, can provide really full spectrum lights from 380nm to 730nm, ideal for all kinds of indoor plants veg and flower at all growth stages. Added 16pcs 3W Osram LEDs provide more lights for plant's flowering and fruiting stages, help you plants get the best yields
Top Rated Orsram LEDs and High Power Epileds COBs —— We only use high quality leds, which will never burn out like other cheap plant lights within months, even weeks! HG800 led grow light adopts 3W Osram LEDs, which is one of the BEST led chips on the market, combined with our originally developed 3000K COBs, can provide TRUE full spectrum (380nm-730nm) with much higher PPFD(Par output) and lumens than other common grow light fixture
 Double Switches More Energy saving —— HG800 LED grow light can replace traditional 500 watt HPS/MH grow lamp while consuming only 240 watts! More effective coverage than reflector series lights, ideal for a 3ftx3ft vegetative coverage at 24inch and 2ftx2ft flowering coverage at 18inch. Using 4 unit HG450 led grow lights is perfect for a 6ftx6ft grow Area. HG800 led grow light is very easy to install and use, plug into electric outlet (100-240VAC) directly and double switches control
Powerful Cooling Fan System —— All our led grow lights have passed temperature test before leaving factory. Our HG800 led plant light is equipped with high speed cooling fans, Built-in aluminium heat-sink and aircraft-grade high heat-conducting Iron shell, which can quickly transfer the heat from the lamp inside to outside, keep the LEDs cool and extend the light service life.
Best Warranty and Professional customer service -- We are a professional LED Grow light manufacturer with strong R&D team and many test devices, all our grow lights have been tested strictly before leaving factory, including high temperature test, high voltage test and vibration test. All our grow light kits have one year warranty plus 30 days money back guarantee. If you have any problems, please do not hesitate to contact us, we will get back to you with completely satisfing reply in 24 hours

HIPARGERO's mission is to be the leading supplier of LED grow lighting, We never cease to develop and implement the latest innovative technologies to improve the products without compromising on quality. Choose HIPARGERO,choose a better and healthier life!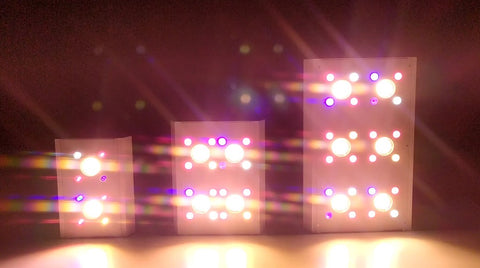 Advantages:
Top rated Osram and Epileds LEDs: Say goodbye to cheap leds, Hipargero led grow light adopts 3W Osram LEDs and full spectrum 3000K Epileds COBs, more efficient and last much longer than other cheap 3W/5W LEDs. Failure rate is lower than 0.1% during 2 year.
Verified full spectrum with UV and IR: Specially designed full light spectrum for led plant light, help your plant grow bigger and stronger, you will get much more yields than ever before. UV and IR is much expensive than red and blue leds, but they are very important for plants.
High PPFD Output more energy saving: Much brighter than other 800W-1000W led grow lights on Amazon, can truly promote your plants budding, growth and flowering. Compared with 800 Watt traditional HPS/MH grow lamps, this light consumes only 240watts.
High-grade Cooling Materials: Stay away from cheap and hot lights, HIPARGERO HG800 led grow light is equipped with UL listed high speed cooling fans and aircraft-grade aluminium heat-sink, keep your lights cool and Long lasting 50000 hour expected LED life.
 Specification: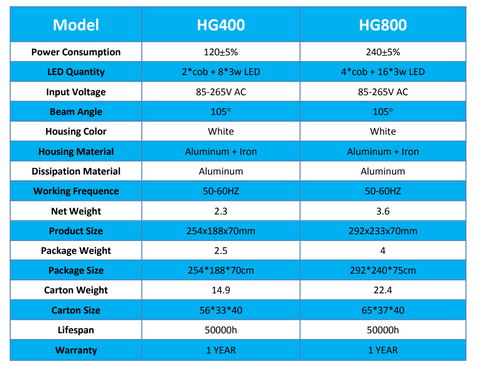 Spectrum: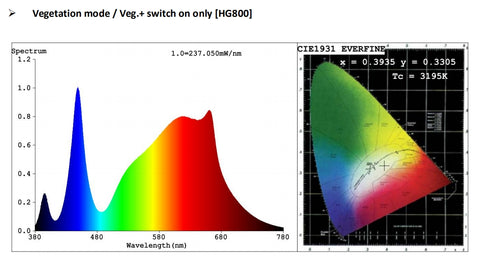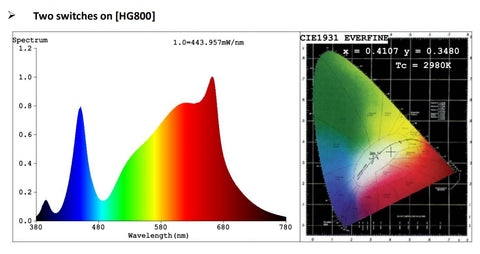 Par value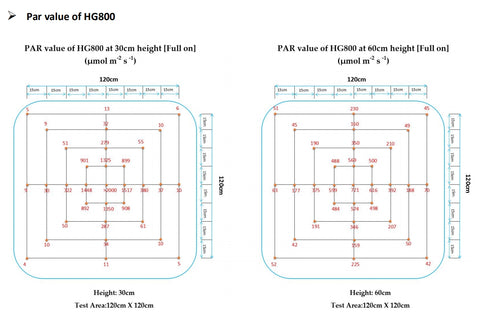 What's in the box:
1 x HG800 LED Grow light

1 x Mounting Kit

1 x Power Plug

1 x Instruction Manual

1 x Adjustable hanging rope
Client Feedback: